BRiN – Your 24/7 Business Advisor
20 April 2017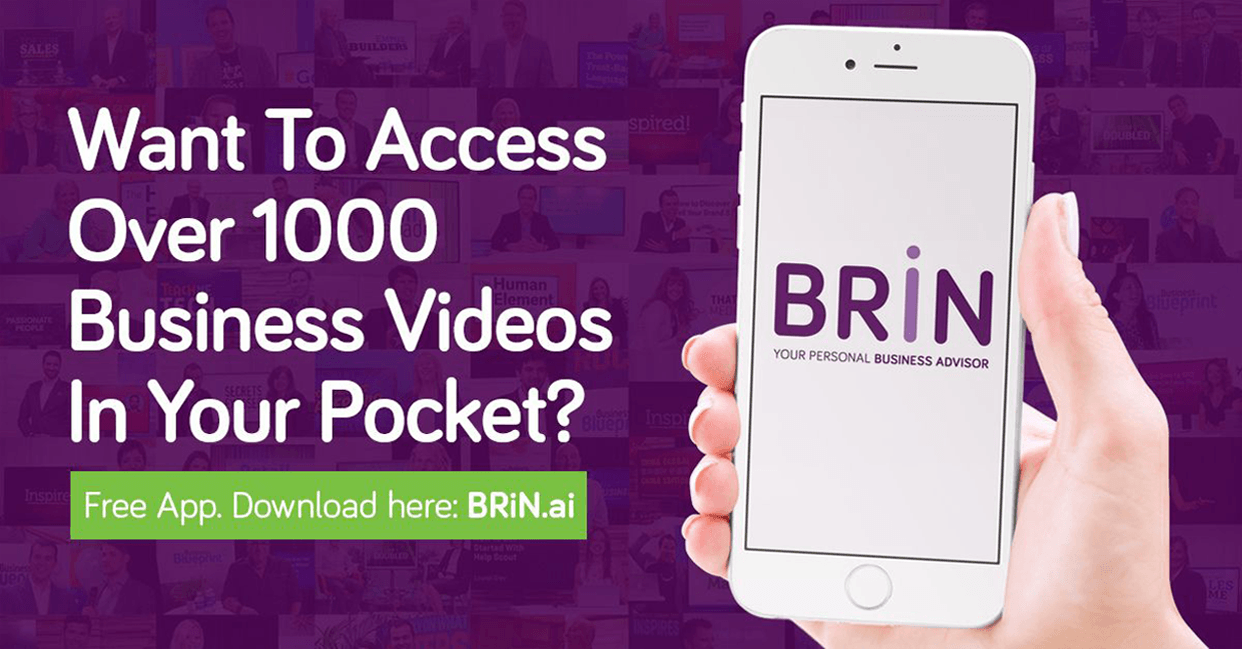 Are you a
business owner, entrepreneur, senior leader, executive or startup

?
Then this may very well be the best and most useful business App you'll ever own.
As you should know, if you want to succeed in business, you're going to need access to a highly experienced business advisor. However, 99% of the world's entrepreneurs don't have access to one.
Until now! Introducing
BRiN

– the world's first 24/7 business advisor.

Now you can finally get the help and support you need, when you need it most – yes, even at 2am in the morning. And, because BRiN is an app, you can get instant access to everything you need, right in the palm of your hands.

To celebrate our launch, for a limited time, we've decided to make BRiN 100% FREE! Just click on the 'Get' button and within seconds our App will appear on your iPhone or iPad, ready for you to enjoy.
Once downloaded you'll have the pleasure of meeting BRiN – the world's first business advisor powered by artificial intelligence. Through a simple yet elegant interface, BRiN will guide you through your journey to business success.

What if you have a question?
Well, BRiN can handle that too.
Simply type or speak your question and BRiN will give you a direct answer instantly – yes that's even faster than a Google Search. Currently BRiN knows the answer to more than 5,000 business questions and more answers are being added every day.

Next, to help BRiN do her job, this App gives you direct access to over 1000 completely original TV-quality business education videos. And right now they are all 100% FREE.

Topics include: Starting a Business, Business Planning, Motivation & Inspiration, Product Development, Branding & Design, Marketing & Copywriting, Selling Skills, Website Building, Social Media, Technology Tools, Operations, People Management, Leadership, Personal Productivity, Finance & Cashflow, Capital Raising, Legal Matters, Going Global, Innovation & Strategy, Wealth Building, Exit Strategies and more!

So, go ahead and download BRiN. You'll be glad you did.
Now because we're entrepreneurs too, we built a set of features that fellow business people will understand, appreciate and love.

Here's just some of what BRiN can do for you…
Made for Mobile: Now everyone can have their own advisor in their pocket

Meet BRiN: Get instant help from your very own 24/7 business advisor

Ask BRiN: Ask and get the answers to 5,000+ business questions

Includes 1000 Videos: Access the largest library of videos for business owners

Useful Categories: With 80 topics to choose from you'll find exactly what you need

TV Quality Content: Every video has been created with the highest quality

Add to Your Playlist: Find the content you care about and add it to your list

Edit Your Playlist: Change your mind? Simply re-order your list at anytime

Remember My Place: Start, stop and start again without skipping a beat

LearnSwitch: Seamlessly switch between video and audio anytime
Choose Your Speed: In a hurry? Now you can learn in double (2x) speed

Highly Recommended: See at a glance what content will be of most benefit

Share with Friends: Tap one button to share any video with your friends

20+ Videos Weekly: Brand-new content uploaded each and every week

250+ Business Experts: Access the knowledge from hundreds of experts
Further features beyond this remain under wraps. But suffice to say, we're determined to help you realise your dream of owning a highly successful business.
Right now, click on the 'Get' button above and within seconds our App will appear on your iPhone or iPad, ready for you to access. And remember, to celebrate our launch, BRiN is 100% Free!